Navigating the transition back to school in August can bring about stress for families. At Tanager, our dedication lies in aiding both children and families to not only adapt but flourish in the upcoming school year. We invite you to explore our comprehensive Back to School Toolkit provided below. If you believe your child could find value in our outpatient therapy services provided by a dedicated Tanager therapist, we encourage you to reach out and call us at 319-286-4545.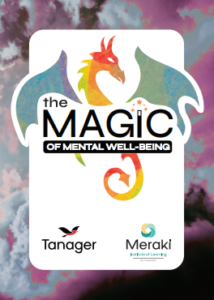 Magic of Mental Wellbeing Printable Trading Cards 
Sometimes you need a fun game to get kids engaged. Our Magic of wellbeing Trading Cards provide a fun and engaging experience to youth to help them learn to identify emotions they are experience and practice fun coping skills.
Family Chat – 24 Questions to Create Connections
Are you finding it challenging to establish deep connections with your children or cherished individuals? Utilize our Family Chat cards by printing them out, facilitating ongoing conversations with your kids, and fostering connections whether it's during meals at the dinner table or relaxing moments in the living room.
 Educator Resilience – Preventing Burnout & Compassion Fatigue
Embark on the new school year with a positive note by building your resilience. Prevent burnout and the weariness of compassion by planning practical measures to prioritize self-care and well-being.
The Power of Traditions: Supporting your Child's Development with Family Traditions
Back to school time is a great time to practice family traditions or start new ones. Learn how traditions support youth mental well-being and check out our list of Back-to-School Traditions to get you started today!
Read for Resilience – Great Books to Help Build Resilience in Youth
Reading is a great way for youth to learn many new things including resilience. By reading about emotions, acts of kindness, journeys of courage, experiences of pain and healing, amazing, accomplish, and many other topics, youth gain new perspectives, increase empathy, feel more confident, and imagine future possibilities. This list of books can help foster resilience in youth.
Time to Return to School – A Social Story by Cassie Kehoe
When it's time to return to school, it's good to prepare for what the school day brings. Read this social story with your children to help them feel ready for the first day!